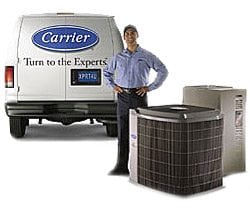 Now is the time of year when you have your air conditioning system tuned-up you will find problems. First and Foremost  are big refrigerant leaks which can occur over the winter. With the price of R-22 of Freon being so high it can cost upward of $600-700 to fill up a system.  So now is the time you have to make a decision to buy a new system.

The first thing you have to weigh is how long will you be in your home. If it is only going to be for a year or two I would probably go for the basic 13 SEER air conditioner.
If you are going to be in there longer I would look at the better or best system. These system would start at 14 SEER and go up to 21 SEER. These systems besides having Rebates from the manufacturer this time of year it also qualifies for Federal and Duke Energy Rebates. They also have better warranties and will save you quite a bit of money on your electric bill. The SEER stands for Seasonal Energy Efficiency Rating. In laymen terms for every watt input it takes out 13 BTU (on a 13 SEER) or 21 on a 21 SEER.
Probably the most important thing is to use a reliable honest contractor. You can check them out on the Better Business Bureau. You can also check out their Google reviews. How long have they been in business? How are they on service?