We are proud of our tradition of excellence. Below are some of the many testimonials praising Cincinnati's own American Heat.
Demand Force Reviews:
99.1% out of 224 reviewers (as of 8-3-2017) said they would refer us!!!
Other Reviews: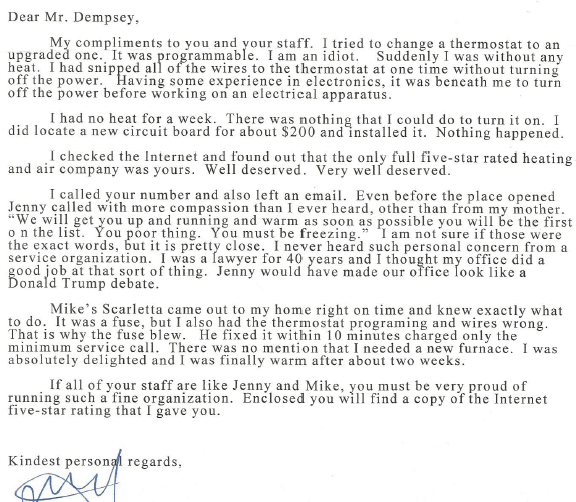 Those gentlemen did a great job. This company is the best company for heating and cooling I have ever had. They were able to answer all of my questions, and as I done my research on their answers, they were all correct. My furnace is 14 years old. After they repaired it,it runs like a new furnace. It's so quiet now I cannot hear it cycle on and off. Thank you for your services.

-Carmen Hon  on Google+
Best HVAC company I've used. A friend recommended them.

-Jonathan McDonald  on Google+
Friend told she needed new furnace so called American and they came right out and replaced an inexpensive part. No problems since. I was told me heat exchanger was cracked, leaking carbom monoxide. I called American and they confirmed the furnace did not leak carbon monoxide or have a cracked heat exchange. Ordered a part and furnace is great. So friendly and fast. I will never call anyone else.

-Ann Faber  on Google+
The heat was not working in my rental property and within 24 hours of calling to make an appointment, Charlie was at my house making all necessary repairs. He called me shortly after the work was done to go over all the details and was very professional. Would absolutely recommend for a responsive, great valued /quality company!

-Stephanie Baron on Google+
Very professional and helpful. The price is reasonable too. We've been using them a couple of times and every time we are very satisfied.
Great people and company to work with. Knowledgeable helpful and efficient. Highly recommend American Heating and Air Conditioning.
The tech did an amazing job and was extremely knowledgeable. He fixed what another company(Clark Heating & Cooling) messed up. The staff was very friendly and helpful with everything else too.
Keith was one of the most efficient people we have had. He was on time, did everything in a timely manner, and was very respectful of the social distancing guidelines by which we are all living. Very happy with this service.
The person we met with (Charlie) was very personable, informative and helpful. He explained the options I had, gave advice on things I could do myself to temporarily solve the problem and helped us get connected with free quotes for long term solutions.
We have always had great experiences with this company. But today the technician, Dave, went above and beyond. He meticulously troubleshot our furnace issues. He was pleasant and professional throughout. We would recommend again and again!
They are top notch I love them they are the best! Jenny is the best she is so friendly and caring! Charlie and Jim are very thorough, do their best to find a problem!

-Patty L Demand Force
Great personal skills and excellent service

-James D Demand Force
Very professional. Pleasant Experience! Thanks, Joe.

-Joseph H Demand Force
5 star! Timely, trustworthy, professional, took time to explain everything being done and how it affects performance of overall system.

-Larry & Amy D Demand Force
Exceptional office staff to help with scheduling the service reps have always been extremely professional and well trained.

-Peter and Sandy S Demand Force
Unbelievably quick service when my heat went out! I couldn't be more peased.

-Jim G Demand Force
American Heating and Air comes through again to save the day and restore heating on a cold day! Great company and excellent service!

-Anonymous Demand Force
Thorough, professional, and very friendly. Treats you like family-highly recommended!

-John & Holly H Demand Force
Steve did an excellent job. He was on time and very professional. I would highly recommend your company to anyone.

-Barry S Demand Force
I have used them for years, and highly recommend them.

-Bryan & Lupe K Demand Force
When I initially transplanted to Cincinnati, I found myself in need of an entire HVAC system for a house my now husband and I had purchased, I went with a local two-name company that was widely advertised in the area. My customer service experience with them has been awful! Nasty, rude, and for no reason. To make things worse, our brand new unit has had a reoccurring issue since install. I literally have had to call every fall, to have a tech come out, open the unit, and replace a valve so that the house can be heated. To add insult to injury, I have to pay parts and labor on this now 5 year old furnace every time.

-Janet M Demand Force
When I initially transplanted to Cincinnati, I found myself in need of an entire HVAC system for a house my now husband and I had purchased, I went with a local two-name company that was widely advertised in the area. My customer service experience with them has been awful! Nasty, rude, and for no reason. To make things worse, our brand new unit has had a reoccurring issue since install. I literally have had to call every fall, to have a tech come out, open the unit, and replace a valve so that the house can be heated. To add insult to injury, I have to pay parts and labor on this now 5 year old furnace every time.

My husband and I moved to a new home recently, Our HVAC needed to service and maintenance. This time around, I took my time contacting companies. If my initial phone call was met with a rude, dismissive, person who seemed generally put off to do their job, I ended the phone call. I had the pleasure of speaking with Ginny, at American Heating and Air Conditioning and her customer service blew me away. She was friendly, attentive, did her best to answer my questions and told me directly when she was unable to answer them. I've worked with her multiple times over the past year. Truly, other companies should use your Ginny as their standard of customer service. I've also had the pleasure of working with a tech named Charlie. He has proven to be polite, honest, and doesn't suggest unnecessary work be done. He was happy to discuss maintenance options with me, but was not pushy in regards to me purchasing these. A year later, I'm happily contacting American for maintenance support, and recommending the company to anyone asks.

Great job, American! You've figured out that quality customer service trumps any deal, promotion, or advertisement. Your amazing customer service makes your company. As a customer, it's what is going to keep me coming back!

–Nick & Inathe S Demand Force
I am a new customer to American since last fall. I asked them, as a second opinion, to look at our furnace which had a problem. The techs found a venting problem in the first 10 minutes. The company I had used before never noticed the incorrect venting during the 8 years I had them service the furnace which they installed.

-Mory & Barb Z Demand Force
I cannot say enough about how positive my recent experience with American H&A was. When I called for service, Jennifer, the receptionist, was so helpful and understanding of my situation. She scheduled me for service first thing the next morning. Greg, my technician arrived first thing in the AM, inspected my air conditioning unit and explained to me in detail what the problem was. He was able to get my unit cooling again in no time at all. I am extremely pleased with America H&A. I would highly recommend American to anyone for their heating and air conditioning needs. Thank you to everyone at American for an extremely positive experience!
-Linda M on Demand Force
Recently the motor on my unit had to be replaced and Jim provided outstanding service. His responsiveness to fixing the problem exceeded my expectations.  Thank you!
-Steve F on Demand Force
Had questions and he explained everything in terms we were able to understand.  Provided information and suggestions for services that will be needed in the near future.
– Joe and Sue V on Demand Force
High praise for American! We have an old home with an old system as well as an addition with a newer system, which was installed by American. They have maintained both, since we moved here, six years ago.
From Ginny, in the office, to Charlie who has been our major technician, we have been extremely pleased with their service. I have never come upon a representative of this company who has not been knowledgeable and professional, as well as personable.
We recently had an emergency, under very difficult circumstances, and their compassion and response could not have been more kind or timely.
We are replacing our old system and without question, it will provided by American Heating and Air Conditioning.
– Gayle Bradford on Google+
I recommend the American Heating and Air Conditioning very highly. This was the first summer I have worked with them. I've had two technicians from the company, one to diagnose/repair a technical problem with the air handler, and one to perform the seasonal maintenance of the AC unit. They are scheduled to come back in the fall for furnace maintenance.

I judge the ac contractors by their attitude towards older units. Mine is a 14 year old Amana system, close to the nominal end of its projected service life. American heating gets by far the highest marks from me on this. They respect their client, and they respect the hardware. They are genuinely interested in getting the system to last and operate per specs. They will talk to you about the current options and choices available for an eventual replacement if you ask them, but it is clear that they are there to get your system to run as best as it can first and foremost.

What sets Ameircan Heating professionals apart from even very reasonable, good companies that I have contracted in the past is the depth of their "feel" for how the components of the system should interact and respond to changing conditions, and their approach to diagnositcs. The level of input and comments they gave me were what I would expect from a design engineeer team leader. They do not simply go through a "checklist" written by someone else; they know exactly what each step is for and how to interpret their observations. They are open, clear, honest, and very importantly, will answer your questions with statements that can be objectively verified. It was a real pleasure interacting with them; everything about their procedures and protocols was nothing short of outstanding.

The end result is that the unit , that had gone a few seasons without maintenance, runs like new. Both problems that were the reasons for the service call ( trouble with air flow and insufficient cooling/ humidity removal ) are gone.

Logistics was great as well. The office was well organized, clear, friendly,and accommodating. Scheduling is straightforward. They will work with you to allocate the window you need, and show up exactly when they said they would. The two visits I had so far were scheduled, first, within an hour of my call, and second was the next day I called, per my request.

Their pricing is very reasonable and fair. The company seems to go for quality work and clearly bets on repeat business. They will certainly continue to get mine.

American Heating, thank you for doing an excellent job for me.
– Andrei Kogan on Google+
We researched the best whole house air filtration system on the market and determined the IqAir filtration system would meet our family needs. American Heating and Air is the only certified installer in the area – there is a certification process for the installation company as well as a particle count certification that it must meet after being installed. Mike, the owner, and his office staff as well as his installer, Mike, were professional, efficient at meeting the needs of our family and empathetic to the circumstances surrounding the need for the install. Not only was Mike knowledgable about the equipment to be installed, he was knowledgable about all parts of the system that need to be inlace to ensure the healthiest environment possible for our family. We recommend American Heating and hope all future business with American goes as smoothly as this did.
– Elizabeth Bien on Google+
When we bought our new home I was terrified when the AC stopped working. We thought , "There goes a ton of money we can't afford." Then I found American Heating and Cooling. There receptionist is polite and helpful and they don't give you a bunch of excuses and maybes. Their techs are prompt and polite and call ahead if needed. They are also very informative about how your system works, which is important for people like my husband and I who have no experience with an AC system. The prices are also VERY FAIR compared to what we have found in the Cincinnati area. We definitely refer their service! Thank you for all your help with our AC, June and Joe.
– June Simonson-Smith on Google+
We have always had great service and a quick response from this company.
Just this week we had an original 12 year AC unit go out. They can the next day to service but informed us that we needed a new unit. It's already installed before I got back from my business trip.
We also highly suggest getting on their yearly maintenance plan. This service package let's them remind you it is time to service so you do not have to remember to do so.
– Mike Fulkerson on Google+
American Heating and Air Conditioning installed our HVAC units when our home was built over 20 years ago. They have faithfully serviced these units without a single instance in which they have disappointed us in all that time. They have always been extremely responsive whenever we have called to set up routine seasonal service, or, when repairs or adjustments have been necessary. We recommend them without any reservations or hesitation.
– Mark A. Cohen on Google+
From the kind woman who scheduled my first appointment, to the helpful techs who came by to service my AC, I couldn't have been happier with my experience. I will be a lifelong customer, and so will the person who originally recommended you so highly.
Thank you for being above average in service, cleanliness, courtesy, helpfulness, and punctuality – it was so refreshing!
– Katie Pope on Facebook
We recently had a new system installed and we continue to be very, very happy with the efficiency of our system. We are saving a considerable amount on our monthly energy bill. The service was great and the cost of installation was very competitive. Over the last 25 years, we have called upon American Heating and Air Conditioning for repairs and service and they have always been dependable, trustworthy and affordable . We highly recommend American Heating and Air Conditioning for all your heating and cooling needs.
– Pat Laurie on Facebook
I had problems with my HVAC for several years until a friend recommended American and after 1st trip out all problems and worries stopped. Just so you know, the problem was that the heat would turn off on it's own and it tended to happen when we were out of town in winter. I had several companies out to look and they kept replacing wrong parts when American simply determined wrong venting and fixed it at a very, very low cost. It pays to go with a company that knows what they are doing, but hard to tell which co. that it is, so I am posting this, so others know my experience.
– Guy D on Demand Force
Charlie was great. He took his time and thoroughly investigated the problem with our air conditioning. He also explained everything he was doing and why. It was a great experience
– Matt & Betsy W on Demand Force
As a general contractor/property developer and as a residential user, I have entrusted only American HVAC with all of my new installations and service work for more than ten years. As a general contractor they have always made an effort to give me competitive pricing and the highest quality workmanship. For service at my residence, promptness and dependability have been a constant..
– Bill & Jill B on Demand Force
American Heating and Airconditioning has provided amazing service for our home. Their technicians are knowledgeable as well as personable. I would highly recommend them for any HVAC needs. They have honestly gone above and beyond any other company I have worked with in our homes across the country.
– John & Gayle on Demand Force
Excellent company to do business with. They do as they say. The company has well trained, professional and courteous employees. The technician who did our work was Charlie. Extremely polite and made sure the work performed was done correctly the first time. He took his time and explained everything he was doing so I would understand. He did not try to sell me parts that were not needed. They have my business in the future. Excellent company to do business with.
– Rick & Nancy P on Demand Force
This summer, we had American install geothermal heating and air conditioning in our rather large older home. Previously, we had only boiler heat, and sparse AC, serving only the upstairs bedrooms. This was a large investment, but American came in lowest of the three quotes I received. Owner, Mike, also worked with me to maximize my tax benefit with this "green energy" package. Technicians worked with me to minimize damage to architecture of my neat old home, while still managing to get ductwork where it was needed. The new unit runs quietly in the basement. No more noisy AC unit next to the patio. Best news, our monthly energy cost is down 60-70% compared to last year, even with the crazy heat we had this summer. I definitely recommend American Heating, and geothermal.
– Dave Beck on BBB
I recently had my "new" A/C die. I say "new" because it was only 7 years old which given the expense I consider new. I have had several frustrating experiences with other HVAC companies in town with regard to both installation and service. Trying to educate myself on whether it was best to repair or replace was no easy task. The other firms I spoke to did not make it easier as it was hard to develop a sense of trust with anyone I spoke to. I called American as my third call and I am glad I did. I got a quick response and information (and explanations) I felt I could trust. I decide to buy a new system but with confidence that is was the best choice. The installation was smooth and on time. The system is running great and they followed up to make certain everything was OK. I will continue to use American based on this experience I would recommend the company to others.
– Kevin G. on BBB
American just replaced my entire heating and a/c system (for a big house). They were incredibly responsive to all my questions and concerns! Their customer service is the major reason we went with the company for the new system, in addition to their estimate being fair and competitive. I wholeheartedly recommend.
– Cathy K. on BBB
after some 25+ years of doing business with american heating and a/c i can truthfully say i've never had the least little thing to complain about…they are honest, fast to react, offer the best of service from skilled professionals in the field…i've had nothing but great results and couldn't be more satisfied with my experiences… unlike many in the field of remodeling/ construction they are on time, respond quickly and offer the best and least expensive solution to the problem…i've recommended them to friends without hesitation and they too have had the same type of relationship… i've several retail spaces, rental and residential properties where they have serviced and replaced equipment to my complete satisfaction…i'd not consider going anywhere else for solutions to my heating and a/c needs… *** ******** *** ****
– Don T. on BBB
American Heating & A/C recently installed two air conditioning syestem in our home and a new gas furnace. They did excellent work and we are very satisfied. Their installers were highly experienced and efficient. They came on the day they said they would and finished the next day. They kept one system running while they installed the other system which kept our house cool during these hot summer days.
– Neil O. on BBB
American Heating & Air Conditioning just replaced my ancient air conditioner. They were professional, timely and competitively priced. I would definitely do business with them again.
– Nancy C. on BBB
Time will tell how well the system holds up!

– Greg
West Chester, OH 45069
I was very impressed with the professionalism exhibited by the installation crew. They worked with me on accomplishing the most efficient routing of the new PVC pipes.
– Dave
Cincinnati, OH 45248
Time will tell how well the system holds up!

– Greg
West Chester, OH 45069
American Heating is the Best! Great customer service.

– Krista
Cincinnati, OH 45233
American Heating is the best in this city! You can count on them at any time of the day or night.

– Mary Jo
Cincinnati, OH
Responded in timely manner when previous system went out over Memorial Day weekend. Very courteous and professional.

– James
Cincinnati, OH 45233
Great dealing with Mike and the team.

– Ray & Kathy
Cincinnati, OH 45230
Immediate response from American Heating. Service person took care of 3 units, defrosted one after electrical blackout. Through the years American & Carrier have been terrific!

– Corky & Ellen
Cincinnati, OH 45202
American Heating did a great job. Ninety five degree weather and they came out same day. Awesome.

– Bob & Kathy
Cincinnati, OH 45244
We've dealt with American Heating & A/C for 20 years and will continue to do so because they are always pleasant, professional, and honest.

– Paul & Maryanne
Cincinnati, OH 45247
American Heating the best. Greg is a #1!

– Phillip & Marcia
Cincinnati, OH 45238
American is the best, as always.

– Michael & Ann
Cincinnati, OH 45208
The American Heating & Air group did a great job. We couldn't be happier.

– Dan
Cincinnati, OH 45244
Mike and Dave know how to run a great business and keep their customers happy.

– John & Kathy
Cincinnati, OH 45233
American handles all our properties. We wouldn't have it any other way.

– Pfeiffer Enterprises
Cincinnati, OH 45240
Everyone at American goes above and beyond expectation to give the very best customer service! Thank you!

– Robert & Elizabeth
Cincinnati, OH 45243
Americans service team is the best!

– Mike & Kathy
West Chester, OH 45069
Thank you for your prompt service!

– Ed & Madeline
Cincinnati, OH 45248
The Dempsey's always take good care of me.

– Patty
Cincinnati, OH 45206
Quick, courteous, professional, and painless!

– Sara
Cincinnati, OH 45208
I replaced an old furnace and the job was done expertly from start to finish.

– Karen
Cincinnati, OH 45243