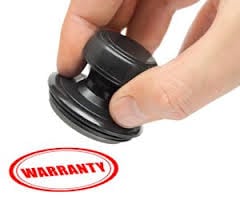 Be careful when purchasing a Home Warranty for HVAC equipment for your home. Many times these Home Warranties are used for "Peace of Mind" when a homeowner sells his residence or property.
With the extremely cold temperatures since these Home Warranty Companies subcontract HVAC work it is difficult for them to offer timely service especially when you do not have any heat in your house. Our company has experienced this quite a few times during the recent cold spell.
The advertising and sales tactics that the Home Warranty Companies use with peace of mind is that farthest from the truth. You are calling a 1-800 number to initiate the service and do not have the slightest idea on the company and the qualification of the service technician that is coming to your house to repair your HVAC equipment.
We would recommend building a relationship with a local HVAC contractor to install and service your equipment in the event that you do have a furnace or air conditioning failure. You would be able to "feel comfortable" with the "peace of mind" with a local contractor who knows your equipment, tadalafil has access to all the parts on furnace and air conditioning and all the service history of this equipment.
So this "Peace of Mind" which you might be purchasing from a Home Warranty Company sometimes is the furthest from the truth.