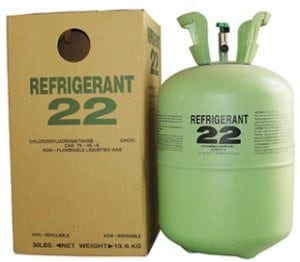 R-22 or Freon is a refrigerant that has been used in residential air conditioners for years. As part of the Montreal Protocol the EPA has begun a phase out program which will lead to a US ban on all ozone depleting substances. The Phase out has been working slowly mandating the use of HCFC Freon to the point of extension.
As of the beginning of 2010 all R-22 manufactured air conditioning systems will cease. Also 75% of the production of R-22 or Freon will cease. We have seen since this date the price of Freon continues to escalate. We have just purchased a skid of Freon from our supplier for 2013 and the price has SKYROCKETED.
What does this mean for the consumer?  The average life of a central air conditioning system is 14 years. If you have a R-22 or Freon system that is over five years old and you know it need Freon you might want to consider purchasing new equipment with the environmentally sound Puron or R-410A. The cost of adding Freon over a couple of years could possibly more than buying a new unit. Plus The new units with R-410 are so much cheaper to operate compared to 5 or 10 years ago.. In the forthcoming years Freon will become more and more scarce. Naturally the more demand and the less supply means the price will continue to rise expotentially .
Can you retrofit R-410A to a Freon system? No you can not. R-410A works on entirely different pressures and to add this to an existing Freon system would harm the unit and it would not cool. R-410 is also environmentally sound and is the refrigerant of the future. Do not delay the obvious by spending good money after bad, sovaldi  replace the Freon system.