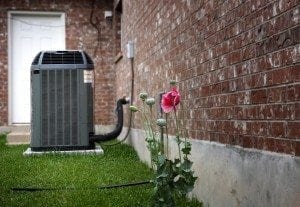 Winter is finally on the way out, treat and it's time to prepare for warmer weather. That means making sure that your air conditioning is ready to cool things down when they get uncomfortable.
There are a lot of good reasons to prep your A/C for spring—not the least of which is the money you'll save. The U.S. Department of Energy reports that heating and cooling account for over 54% of the average home utility bill, so the more efficiently you can run your air conditioning, pilule the more money you'll save.
The following tips will help you ensure that your A/C units or central air conditioning are running in top shape for the warm weather season, saving you money while providing optimal temperature control.
Use the thermostat to check A/C function
Find out whether your central air conditioning is working properly by turning down the thermostat temperature to the "cool" setting. You should have a steady stream of cool air from your A/C within a few minutes. Check any wall units for cooling power as well, by turning them on to the lowest setting. If the A/C doesn't turn on, or fails to produce cool air, call a service technician as soon as possible.
Now is the best time to get your A/C serviced, because when the weather gets hot, repair technicians will be busier and not able to get to you quickly. This way you can ensure you won't be stuck without air conditioning at the hottest times.
Replace the filter
The filter on your air conditioning unit needs to be changed after several months without use. In addition, you should install a fresh filter once a month during regular use of air conditioning. The job of the filter is to keep debris out of the unit's interior and prevent pollens and other allergens from being blown in along with the cool air, so it's important to stay on schedule with filter changes.
Clean air conditioning units thoroughly
For outside or window A/C units, it's essential to inspect and clean the exterior portions before the start of warmer weather. Clear any obstructions you might find around the grills or the unit, and use a brush and a soft cloth to wash dirt and debris. For exterior units, you should also power down the unit and use either a hose or a commercial air conditioning cleaner to wash the coils. Use a vacuum brush to clean the coils of a window mount unit.
Clear condensation lines
The evaporator coils in central air conditioning units deposit moisture, which is then drained through a condensation pipe, with either gravity or a motor pump. Check the condensation pipe on your central A/C system to ensure there is no dirt or blockage inside the pipe, which can cause fluid to back into your unit and incur expensive damages.
To clean the condensation pipe, use a cap to block the pipe on one end, and a wet/dry vacuum to extract the contents from the other. Alternately, you can use a plumbing snake to clear any blockage, and then flush the pipe with either algaecide or a solution of bleach and warm water.
Save money with upgrades
For those with central air conditioning, upgrading your thermostat from a mercury switch to a digital, programmable model can save you up to $100 or more each year. This type of upgrade also gives you convenient control of your heating and air conditioning, since you can set the thermostat to automatically lower or turn off while no one is in the house, and turn on the heating or air conditioning shortly before it will be required.
Another potential upgrade that can save you money and deliver more value is to invest in a newer air conditioner. Each year, the latest A/C units are more energy efficient, with better features for home use. Keep in mind while shopping for a new air conditioner that you should have a unit with the right capacity for your home—too big and the unit will cycle on and off more frequently, making it more likely to malfunction; too small, and the unit will work too hard to cool things down, which results in excessive wear and tear.
Prepare your home for increased air conditioning
Finally, you can ensure optimal performance from your A/C unit by making sure your house is in good shape. Insulation is important not just for better heating in the winter, but also for more efficient cooling in warmer weather. Check your attic insulation, air ducts, and windows and doors to be sure everything is properly insulated.
There are a few ways to increase the cooling power of air conditioning without running it more often. One way is to install ceiling fans, which are low cost to operate and help to circulate cool air throughout the house. Another option is to block direct sunlight from living spaces, by either closing your windows or blinds during the hottest hours of the day, or installing solar window film to provide more effective sun control.